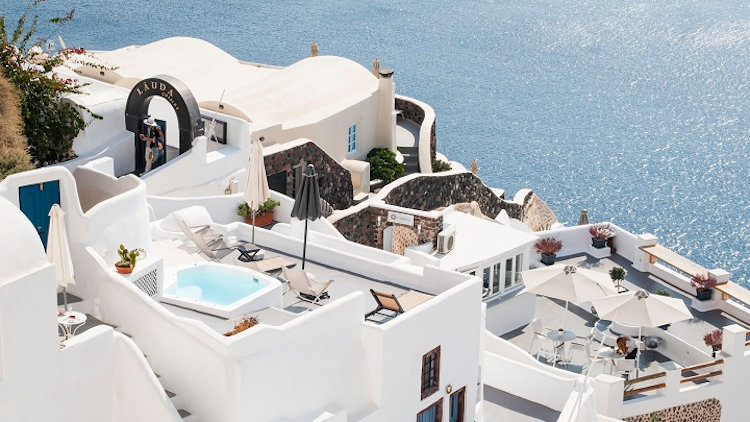 Santorini is undoubtedly one the top summer destinations in Greece and a very popular romantic holiday destination. A mouthwatering Mediterranean cuisine, fantastic beaches, a majestic caldera, jet ski rides, catamaran cruises, archeological sites, and museums… what's not to like in Santorini?
If you are thinking about visiting the beautiful island of the Aegean Sea, there is a high chance you are also thinking about renting a villa. And you probably should. Besides the luxury that usually comes with beautiful villas, renting a villa is the best option for groups of people that want to stay together and for those that truly value privacy.
So, if you are looking to rent a luxury villa in Santorini this summer, here are 5 tips to keep in mind.
1. Find an Appropriate Location
The location of your villa and town proximity will be the most important factors of your stay, besides the villa itself.
You probably know that you want to stay in Santorini but perhaps you don't know where exactly? You should first ask yourself if you'd like to stay in a more isolated place or you'd rather be within steps from town. Even if Santorini is a relatively small island, you still have options.
Accordingly, you may choose to stay in one of the villas in Fira. Fira is the capital of Santorini, and one of the most crowded spots on the island. Furthermore, you can find villas built by the caldera. These villas will offer a magnificent view of the volcano and the Aegean Sea. Additionally, staying in a villa in Oia is also a great option, especially if you are into romantic dining and high-end shopping.
2. Find the Type of Villa that Suits You
Different kinds of villas offer different kinds of facilities, services, and amenities.
You may want to look for specific types of villas and categories such as:
Beach-front villas
Family-friendly villas
Honeymoon villas
Large-group villas
Villas suitable for events
Last but not least, ask whether the pool is really private. Sometimes, villas share a common pool and that's maybe something you'd like to avoid.
3. Get the Best Possible Deal
It's no secret that Santorini is a high-end destination. After all, you are looking to rent a luxury villa. No matter what, you shouldn't pay more than you should. The next time you look for Santorini holiday rentals, there are few things you should keep in mind.
First, do your research. Visit as many villa rental listing websites as you can. Second, don't ask for more services or amenities than you are going to use. Sure enough, staying at a villa with a Jacuzzi adds an extra layer of lavishness, but if no one is going to use it, what's the point? Finally, keep an eye out for early bird offers. The sooner you book a villa, the lower the price might be. Not only that but you will also have the most available options, as more properties will be available.
4. Know What's Included in the Price
Perks are parts of the deal as well.
Is free housekeeping included? Can you rent a car at a better price? Do you have the option to hire a chef? What about late check-outs and early check-ins?
Also, don't forget to ask whether there's free Wi-Fi, satellite TV, or streaming services like Netflix. The same goes for air conditioning, safe boxes, and hairdryers, and toiletries.
5. Rent a villa in September
Technically, the summer begins in June and ends in August. However, Santorini is in Greece and Greek summers tend to last longer. The seawater will remain as warm, if not warmer, and the crowd somewhat thinner.
What's more, September is still high season for Santorini. Every villa, bar, restaurant, or boutique that is open in August will remain open in September. Even October is considered to be an excellent time to visit Santorini.
Also, don't forget that it's very possible that you will find villas at a better price if you book one after August.